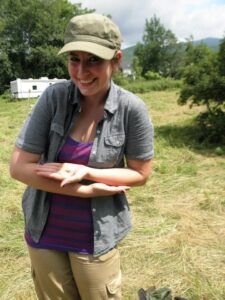 Joy Tatem began her work in archaeology as a high school junior in New Hampshire in 2009. She volunteered at various field schools around NH with the NH State Conservation and Rescue Archaeology Program (NH SCRAP) as well as at the Gault site in Florence, Texas and Lac-Mégantic, Quebec Canada; all focused primarily in Paleo-Indian archaeology and lithic technologies.
In December 2013 she received a Bachelor of Arts degree in Anthropology from the University of Vermont in Burlington, Vermont.  While also completing a minor in Geo-spatial Technologies and Arabic, she volunteered at the Consulting Archaeology Program as a lab analyst during her college years and continued to work for them as a field technician during the summers. She also maintained a position as a Research Assistant/Teaching Assistant for Dr. Deborah Blom, a bio-archaeologist focused on the Tiwanaku in Bolivia, throughout her college career. Upon graduating, Joy was presented with the James B. Peterson Archaeology Award – honoring respect and passion for the field of archaeology.
After graduating, Joy was employed for a time as an analyst for the Center for Advanced Spatial Technologies (CAST) in Fayetteville, Arkansas at the University of Arkansas, working on the CORONA project under Dr. Jack Cothren and Dr. Jesse Casana. She has been with AR Consultants since March 2015 and enjoys a special interest in lithics, North American Paleo-Indian, and Near Eastern Archaeology.